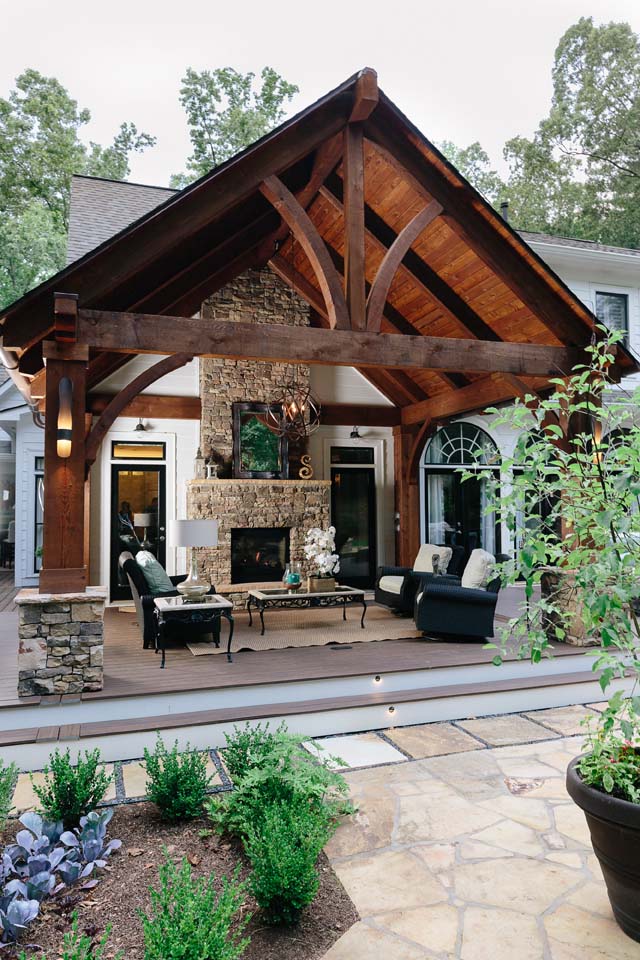 1. Plan for Year Round Enjoyment
Atlanta has great year round weather that allows for outdoor living enjoyment during any season. In order to maximize your time outdoors consider these trends when planning your remodel.  We are seeing more built-in grilling areas with counter tops to make cooking easier and fridges to have cold beverages available at all times. Covered porches with fireplaces are a great option to truly extend your time outdoors whether it is chilly or raining. Other trends include LED lighting for nighttime fun and mosquito systems to help keep these pesky bugs away.
2. Consider Maintenance Options
When thinking about your outdoor space, keep maintenance in mind when planning any updates. Consider low maintenance materials such as long lasting light bulbs, durable flooring and paint. The goal is to enjoy the space rather than spending time on upkeep.
3. Other Important Considerations
You should also consider the overall investment parameters of your project. Exterior spaces are usually less expensive than remodeling inside your home, and can create dramatic transformations. Elements to keep in mind while you plan and look at layouts are how long you will live in the house, sun orientation, the best views, privacy and it's Atlanta so water management is key.
4. The Overall Look and Feel
There are more and more styles to choose from when it comes to outdoor living spaces. You want to make sure that you are choosing the one that fits your family and lifestyle. People are designing their backyards to be more resort-like so that every time they step outside they feel like they're being transported to an exotic location.
5. Choosing the Right Contactor
A good contractor will help you think through all of these components, make suggestions based upon your specifications and help you achieve your perfect outdoor living space. Make sure that the contractor you choose has a contractor's license, not just a business license. Also ask if they are covered with both general liability and worker's compensation insurances before ever stepping foot on your property. References are always good to ask for as well as work examples. If for any reason you do not feel comfortable with them, trust your gut. It can be a big investment, so make sure that you work with a contractor who understands your needs. And never pay too much up front.