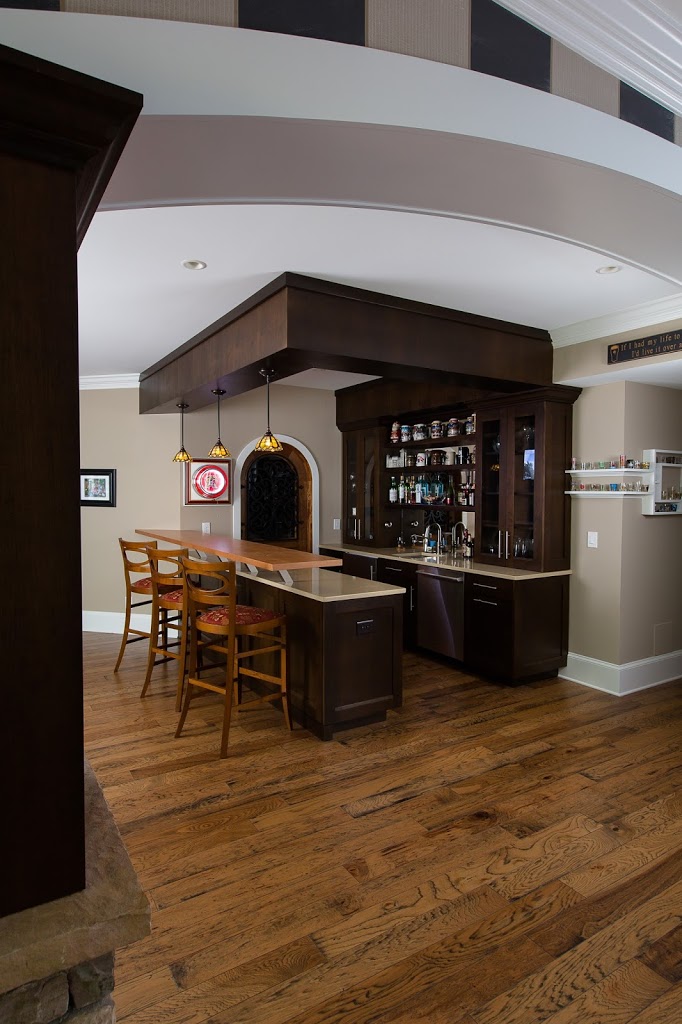 The idea of adding a personal bar in the home appeals to many people. The bar can be a focal point for entertaining or a place for family and friends to relax, visit or watch television. Often, home bars are incorporated into a kitchen or set up near a wine storage area. A bar can also be added to a finished basement or constructed outdoors on a patio or deck.
When you work with a builder or designer, you'll be able to select not just the size and shape of a bar but materials and colors, appliances, sinks, cabinets and shelves, lighting, and seating. If the bar is part of the kitchen, you may want the bar countertop to be the same height as the kitchen countertops, which are typically 36 inches high. Alternatively, a 42-inch countertop can accommodate bar stools and is also convenient for standing at the bar.
Granite has long been the preferred material for home bar countertops, but quartz products are gaining in popularity. Quartz has a more contemporary look than granite and contains epoxy resins that minimize staining. Concrete, stone, and metal countertops are also available.
For storage, you could install cabinetry that would match or complement the style in the kitchen or experiment with contemporary or traditional styles, from heavy and dark to light and bright. Shelves and racks for holding glassware, bottles, cans, and other supplies can also carry out your design theme.
Since bars are more commonly used at night, lighting is an essential component that can enhance the entire area. Especially in indoor bars, lighting must be integrated into the design from the start; wiring has to be installed during construction, although you can select light fixtures later. As a rule, bars in a home setting are not brightly lit; the location within the house and the way you envision using it will guide lighting decisions.
Similarly, you also need to decide before work begins whether you want to have television, a refrigerator or ice maker, or sink and determine where they should be. Planning a bar down to the very last detail before anything is started is critical to the success of the project. Your builder's three-dimensional design software will give you a very realistic idea of what the finished project will look like, and if your initial ideas don't look as good as you expected, you can make changes before work begins.
Given the numerous variables involved in building a home bar, the cost can vary considerably. As a rough guideline, the cost of an indoor bar area could range from $5,000 to $50,000, while an outdoor structure could cost $15,000 to $50,000. Ultimately, the size of the project and the choice of materials and appliances needed to build the bar you're been dreaming of will determine the budget.
Source: Rick Goldstein, Architect, MOSAIC Group Architects and Remodelers in Atlanta, GA