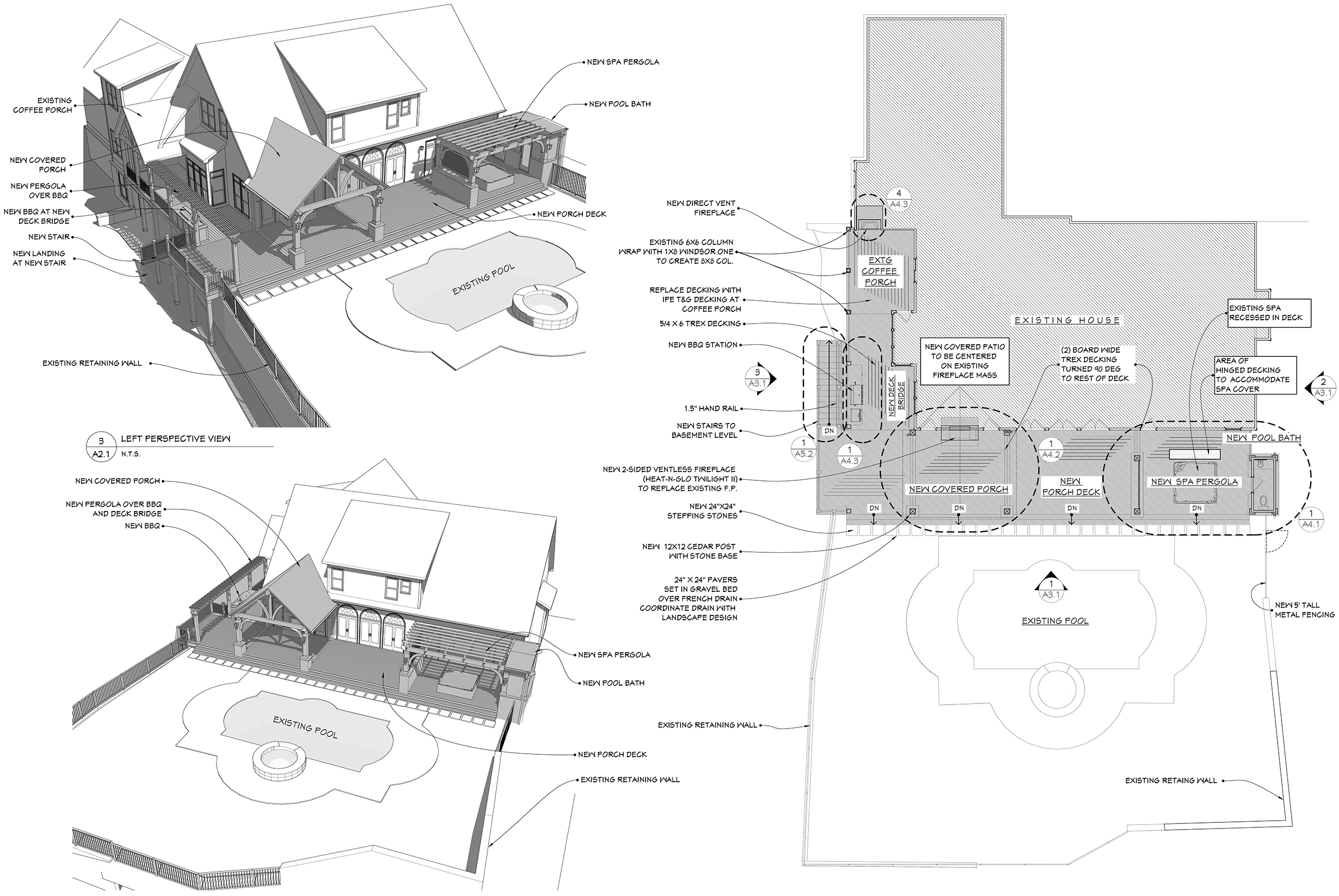 The summer is flying by and it's almost time for the kids to go back to school. Here at MOSAIC we are enjoying the strong economy, which has kept us busy this year and allowed us to continue to evaluate and perfect our offerings. At the core of our business we are an exceptional residential design/build and remodeling company. However, we realize that a little bit of diversification is beneficial and wanted to introduce our "Design Only" services intended for those not ready to build their projects, but want to start the design and master planning process. Our talented, award winning team of Architects, Kitchen/Bath Designers and Interior Designers are available to help you plan and visualize your next project, whether it is a new custom home or small office, whole house remodel, kitchen replacement, attic conversion, basement, outdoor living project or landscape design. Check out some of our 3D designs that will help you visualize your own ideas! Our hourly rates are reasonable, and we have years of experience in this industry.
Our Design services include:
New Custom Homes
Residential Additions and Remodeling
Kitchen and Bath
Outdoor Living
Interior Design
Space planning
Light Commercial and Tenant Improvements/ Fit-Out
New Custom Homes
A home is such a personal expression, a refuge from the daily hustle of life; a stage to entertain friends and family; a sanctuary within which to raise a family. A custom home can be the ideal backdrop and the canvas for your ever-changing life journey.
Residential Remodeling and Additions
Atlanta has such a great variety of residential communities. Many have found their perfect niche for living, but the home itself is not meeting their needs. The re-imagining and reorganization of your existing home may be the path to your bliss or even aging in place.
Kitchen and Bath Design
As trends evolve and technologies improve, the most frequented spaces of any home may be in need of a makeover. Innovative kitchen and bathroom design can turn these otherwise utilitarian spaces into highly inviting spaces in which you and your family will love to linger.
Outdoor Living Design
The interior of a house is just a part of how we experience a home. We live in a city that invites us to enjoy the outdoors. Bring that space into the everyday living of a home with an outdoor kitchen or an alfresco living room.
Interior Design
Do you have all of the pieces in your home but don't know how to bring them together into a grand symphony? Each room should speak to the next. Each element of texture and color should combine to tell a story, your story.
Light Commercial and Tenant Improvement/ Fit-Out
Does your small business space need a refresh? Are you a local contractor in need of design assistance? MOSAIC Architects also have light commercial and tenant improvement/fit-out design experience. These include small offices, retail shops, cafes, lobby spaces, etc. If a commercial space is comfortable and inviting, your business and profit will benefit.
Whether you are looking for a turn-key solution that requires design/build, or you have a favorite builder and just need our design services, MOSAIC [Design + Build] will help you envision your next project.