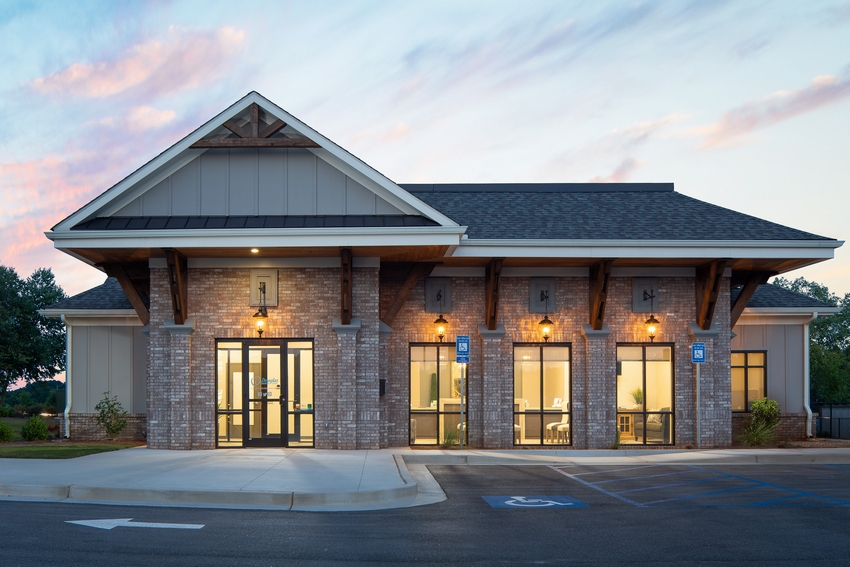 Those of you who have been "friends of MOSAIC" for a while now, might have the impression that residential remodels are all that we do. And it makes sense—that's been the bulk of our work over the last 30 years. We're passionate about it and pretty darn good at it too!
However, we like to keep things interesting around here, and we do enjoy branching out and working on projects that aren't our typical fare, from time to time.
We did exactly that, recently, with the Douglas Dental Care facility in Douglassville.
DDC was our very first commercial project—can you say major milestone?! It was also a ground-up construction project—another rarity for our team here at MOSAIC.
At approximately 4800 sq ft, all on one level, the DDC project might appear straightforward enough, but what most people will never learn in their entire lifetime is the complexity of building a dental office.
All ground-up development has the standard intricacies—land testing, laying underground utilities—water, electric, gas, etc. But then there are the dental-specific challenges. The facility was designed to have seven operatories (those are the rooms with the dental chair where you get your cleanings and procedures done). Therefore, the building required approximately 150 foundation penetrations for all of the piping, tubes, drainage, etc., which all have to be measured and executed with extreme precision and accuracy.
We're proud to say that the dedicated MOSAIC team was able to complete the DDC project on budget and ahead of schedule. And with its tan brick exterior and rustic, barn-style finishes, the facility looks incredible!
So, if you have a project in mind and are looking for a partner to bring it to reality—give us a call—even if you think it's outside of our wheelhouse. You never know, we just might be the perfect fit. At MOSAIC, we pride ourselves on being a highly skilled and versatile company that's always open to new adventures.

Visit Dr. Arfanakis and Dr. Tidwell at Douglas Dental Care!
https://www.douglasdentalcare.com/
5897 Stewart Parkway
Douglasville, GA 30135