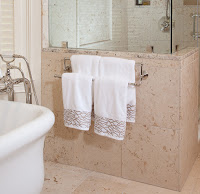 Ever wondered how high a toilet paper holder should be? Maybe you're unsure how high or low you should install a towel bar for guest towels. Here is some advice from the National Kitchen and Bath Association (NKBA).
The NKBA recommends the toilet paper holder be placed 8 inches to 12 inches in front of the toilet rim and 26 inches above the finished floor. Since comfort height toilets and standard toilets are lower than 26 inches, the NKBA recommended height of 26 inches is good for both.
Determining the height for towel bars is not as easy. There are several things to consider. How long are the towels? Will you have enough room for all of the towel bars you are mounting? Will some towel bars need to be double stacked?  Will robe hooks and towel bars be in the same area. Will grab bars be needed in the guest bath? We don't want a guest getting out of the bathtub to a mistake a towel bar for a grab bar.
Without knowing more about space requirements in your guest bath, the recommendation would be between 30 inches and 48 inches above the floor.
The low end is the previous standard height for vanities. Some people try to mount towel bars the same height as other horizontal items in the room such as the vanity countertop. This creates continuity and these continuous lines will visually add length to an otherwise small space.
The high end is if towel bars needed to be double stacked and 48 inches is the highest comfortable reach suggested for the average person.