As the New Year begins, a new wave of design trends are becoming increasingly popular. Let's explore the top kitchen and bath trends to watch out for in 2018, as well as ways to incorporate them into your next remodeling project.
Let's start with the 2018 Colors of the Year: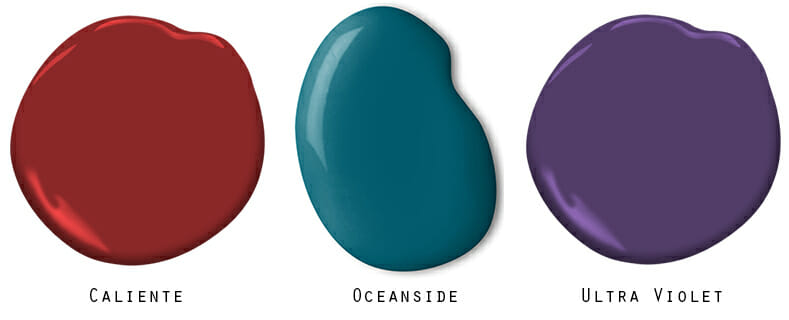 Benjamin Moore Caliente AF-290
Sherwin Williams Oceanside SW 6496
Pantone Ultra Violet 18-3838
The take away: Bold and luscious hues are in, say goodbye to bland white and grey tones!
Out: Simple, subway tile
In: Tile with bold pattern and texture
Say it isn't so! Tried and true subway tile is on its way out. Geometric shapes and patterns, visual texture, unique designs, and bright colors are the hottest trends of the upcoming year.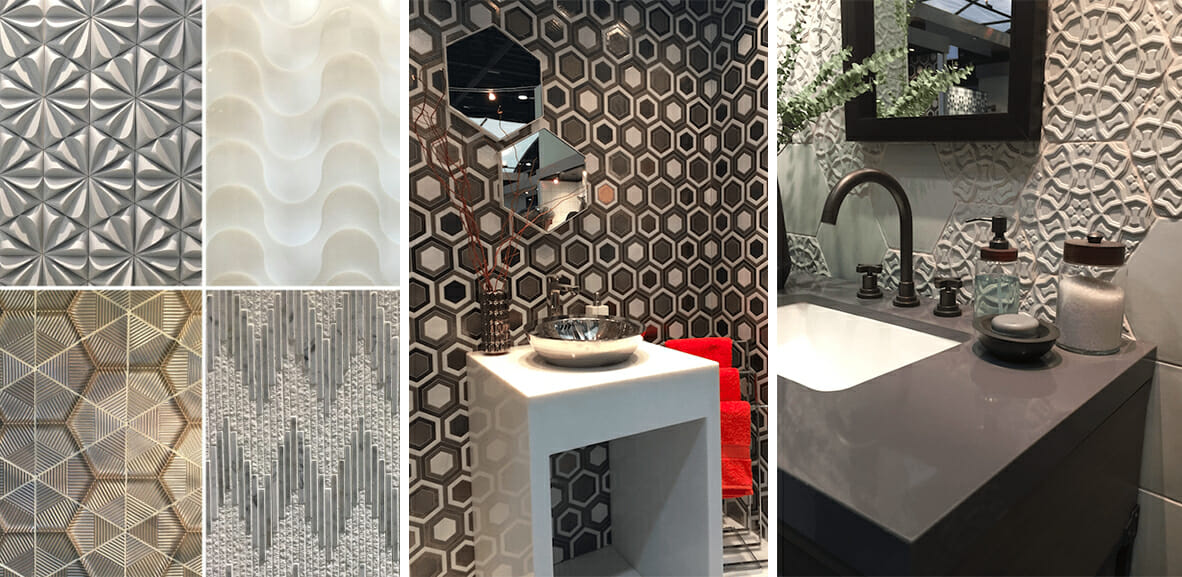 How to incorporate into your design: Create an accent wall with a textured, monochromatic tile. Or go bold and install a multi-toned pattern tile on the bathroom floor or back splash. Afraid to take the plunge? Opt for a single toned tile with a unique pattern to create a softer look.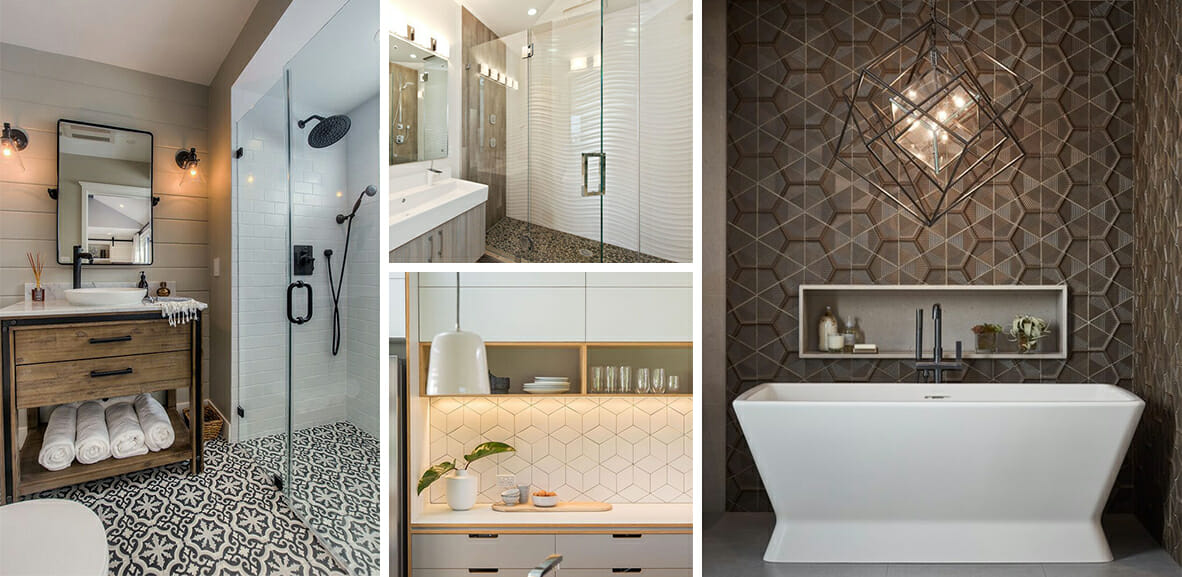 Out: All white tones
In: Jewel tones
The colors of the year say it all. The trends are moving towards bold jewel tones like blues, purples, greens, and reds. The all white kitchen and bath is beginning to fade away as people are growing tired of the stark, sterile look that all white gives off; clients are looking to add more personality into their space. To be clear–white isn't necessarily disappearing any time soon, but color and warmer tones are being added in to give off a richer, more sophisticated look.
How to incorporate into your design: Mix cabinet tones by using off-white on your upper cabinets and a bold jewel tone for your base/island cabinets. Or pick an accent tile that incorporates a colorful tone.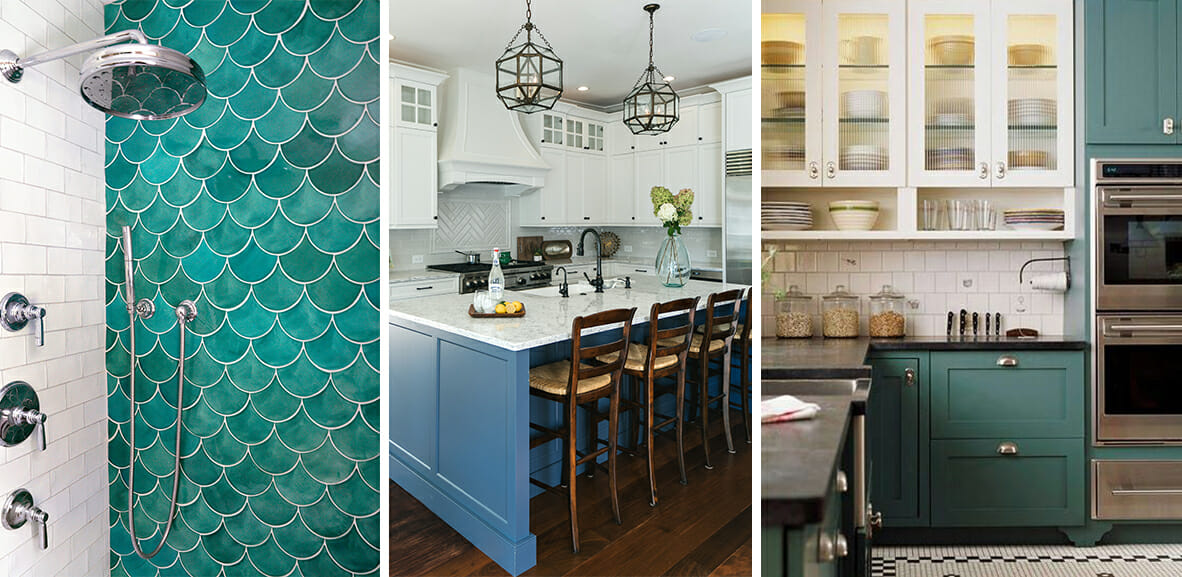 Out: Stainless and Satin Nickel
In: Matte Black and Brushed Gold
There is a huge rise in the number of matte black and brushed gold fixtures out there, most often seen in faucetry, light fixtures, and cabinet hardware. It's statement making and sexy, yet tough and versatile. Especially when going with a bright, neutral palette, these two finishes really add a touch of "wow" into the space.
How to incorporate into your design: Consider using a blend of matte black and brushed gold for cabinet hardware and lighting. These finishes blend well with nickel, so you can still have your faucetry in nickel but add flair and color with the addition of black and gold accents.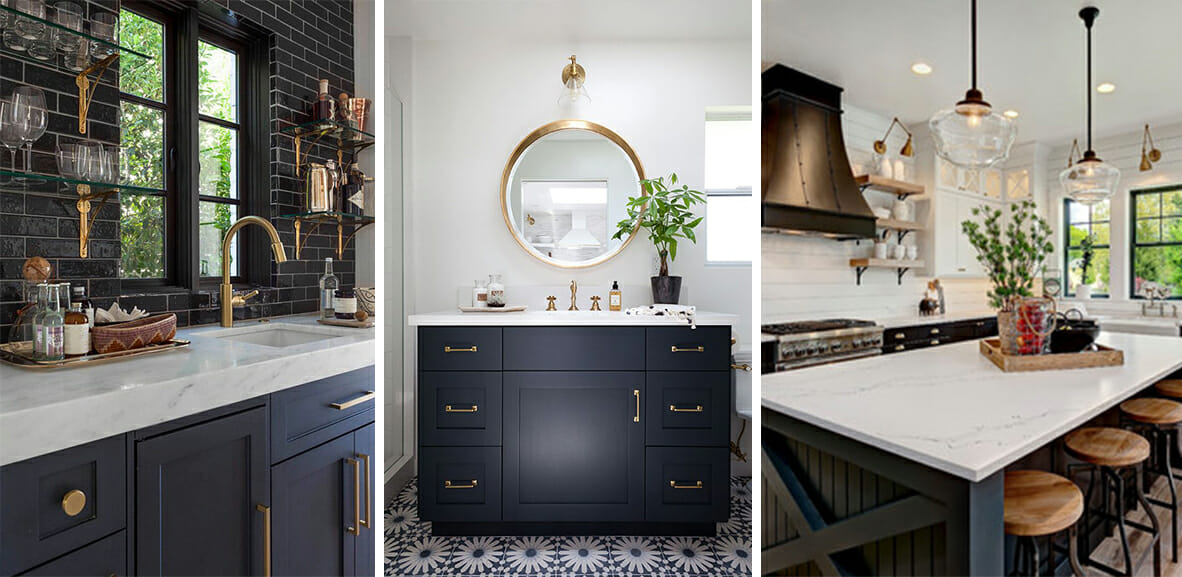 Out: Farmhouse style
In: Modern Rustic
Move over, Joanna Gaines! Well, not completely. She has pioneered the wave of the farmhouse trend all over the country, but the full farmhouse look is on its way out. Modern rustic is on its way in—it takes elements of the farmhouse look such as rustic wood and pastel tones, but adds a twist with the addition of sleek lines, concrete, and a touch of industrial. It's the idea of mixing metals, textures, and sheens to create a bold and eclectic look.
How to incorporate into your design: Opt for sleek, slab front cabinetry and a clean marble countertop with black/gold industrial lighting and natural wood accents. Mix cabinet tones, countertops, and metal finishes throughout the space.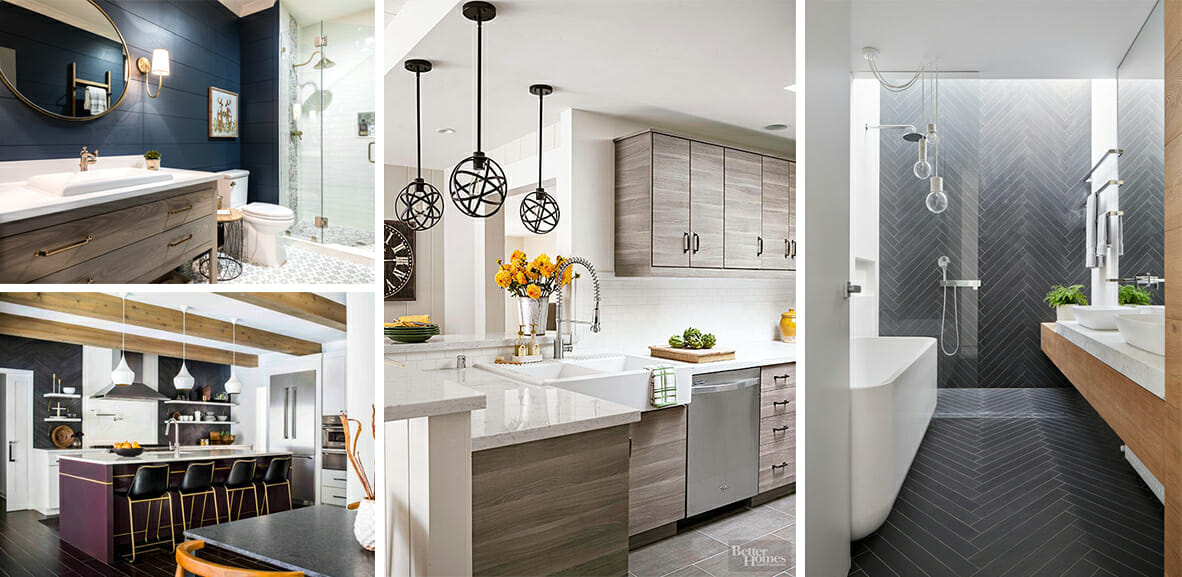 Looking ahead: Expect to see darker tones used in the near future. Think black, dark grey, navy, and natural woods. People are leaning towards more raw, natural looks that are still cozy and warm.