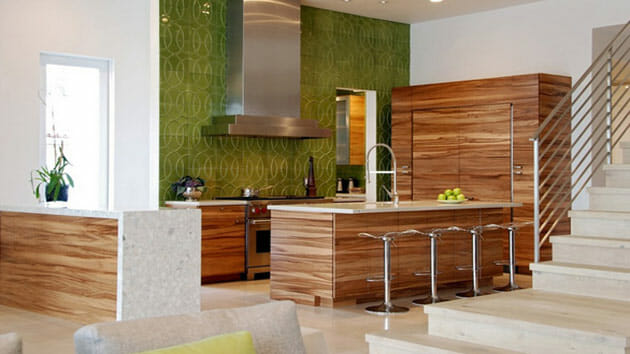 Remodeling your kitchen is a great opportunity to make it not only more functional and aesthetically pleasing, but also more eco-friendly. Here are some of the most popular "green" options for your kitchen renovation.
Countertops: Consider using recycled glass, bamboo, or paper-based countertops instead of traditional granite or marble.
Cabinets: Choose cabinets made from sustainable materials such as bamboo or wheat straw. You can also opt for cabinets made from reclaimed wood.
Flooring: Use eco-friendly flooring options like bamboo, cork, or linoleum instead of traditional hardwood or tile.
Appliances: Invest in ENERGY STAR certified appliances, which are more energy efficient and use less water. Look for appliances with a "low-flow" feature to conserve water.
Lighting: Replace traditional incandescent light bulbs with LED lights, which are much more energy efficient.
Faucets: Consider installing low-flow faucets, which conserve water and reduce your monthly water bill.
Paint: Use low-VOC (volatile organic compound) paint, which is better for the environment and for indoor air quality.
By incorporating these "green" options into your kitchen renovation, you can not only improve the look and functionality of your kitchen, but also reduce your environmental footprint and contribute to a more sustainable future. When you're ready to pursue a remodeling project in your home, give us a call at 770.670.6022 or fill out a Schedule A Consultation form here.